The Lea-licious range has two new activated snack bars; Cherry-Choc Rock and Coco-Nut-Licious bars made from 100% organic ingredients, gluten free and suitable for vegans.  Lea Rutter from Lea-licious is a new to the food industry and after a three-year developmental stage has fine tuned the first two flavours of a growing snack range.
Only using 100% organic products, Ms Rutter is conscious of the quality of all her ingredients, and spends considerable time sourcing and purchasing from reputable companies.
The best part of Ms Rutter's day is the creation of the snack bars.  'I love the meditative state I fall into when making the snack bars; I am in the moment, a mindfulness trance. '
Dabbling in raw desserts for over nine years, before raw became popular, her avid sweet tooth led Ms Rutter to seek a healthy sweet treat alternative.
When she offered samples to friends and family, they kept coming back for more until she realised this could be a viable sweet alternative for everyone.  'I love it, seeing the smile on their faces when they eat my snacks, it makes my day'.
The search for home compostable packaging
Once the snack recipes were perfected for market, Ms Rutter embarked on finding environmentally friendly packaging.  'Ethics is a key business value of Lea-licious, encompassing honesty, integrity and environmental footprint throughout the whole production process.'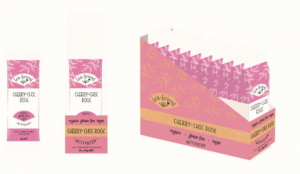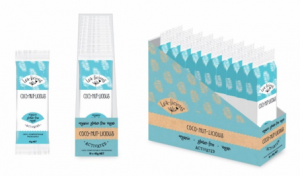 After hours on the internet and many phone calls of research, Ms Rutter quickly become an expert in packaging.  However, she was not happy with what was available in the market.  'There were so many packaging options available but when you investigated them they really weren't totally environmentally friendly.  I learnt so much about packaging during this process.'
'What I found surprising about eco friendly packaging in general was the different layers involved in each pack.  Even when packaging stated it was recyclable, I had to be careful as not all layers including the adhesive, were recyclable. This made me more determined to find and use home compostable packaging.'
Persistent on finding 100% home compostable packaging, Ms Rutter was getting frustrated until her manager at work told her about the home compostable packaging from PA Packaging Solutions.
'I was prepared to step away from Lea-licious if I couldn't find true home compostable packaging.' Ms Rutter said, adamant on staying true to her business values.  'With PA's home compostable packaging and their TUV home compostable rating, I felt confident I was using environmentally friendly packaging.  I also thought it would be out of my price range.  The smaller print run meant I didn't have a huge outlay.' 
The future is home compostable packaging
Ms Rutter thinks home compostable is the future in packaging 'Consumers are getting more and more conscious of the packaging on products they buy.  Social media is helping to make people more and more aware of the need for environmentally friendly packaging.'
With plans to expand Lea-licious to include more flavours of the healthy snack bars, plus new raw desserts and granolas, she wants to leave a positive legacy for the environment and a viable business to her daughter.
Lea-licious snack bars will be available at selected health food stores and online from June 2018.  PA Packaging Solutions new home compostable packaging is available now.  Please contact us or call on 02 8882 9612.