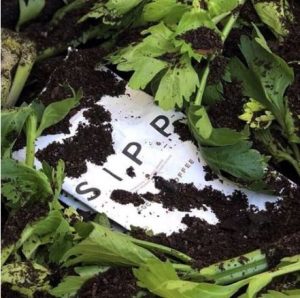 Our new flexible barrier laminated film has been accredited with Australian Standard AS 5810-2010 Home Composting – 'Biodegradable plastics suitable for home composting'. After extensive testing, PA Packaging Solutions can now supply flexible film as home compostable barrier laminated packaging.
PA Packaging Solutions empty biodegradable packaging can be placed in a home compostable bin.  Here it will break down under specific composting conditions back into water, carbon dioxide and biomass, within 26 weeks.
The home compostable barrier laminated packaging had attained Europe's TUV Austria OK Compost Home and Seedling certification, achieving a high degree of compostability.  PA Packaging Solutions felt it was important to get the higher standard of ABA accreditation.  They were determined to have an Australian certified solution and provide guaranteed environmentally friendly packaging to the Australian and New Zealand marketplace.
About the home compostable barrier laminated packaging
Seen as the breakthrough in compostable multi-layer film barrier laminates, the packaging comprises a bio-film called NatureFlex™.   NatureFlex™ is created from wood-pulp from certified sustainable forestry sources only.
This flexible barrier film has options for a double or triple layer structure made up of clear or paper options, metalised and bio polymer sealant web. The design provides excellent moisture and oxygen barrier properties that extend product shelf life to help both retailers and consumers minimise food waste.
Our home compostable packaging is available in many packaging styles suitable for clear, paper or metalised printed films, pouches or sachets. We also have a home compostable barrier lidding film that can be applied to biodegradable trays.
About Australasian Bioplastics Association
Established in 2006, the Australasian Bioplastics Association (ABA) is the Australian and New Zealand peak industry body for manufacturers, converters and distributors of bioplastic products and materials.
The Association represents Members in the promotion of and advocacy for, Members products and materials. The association works with government, organic recyclers, composters, industry groups, non-government organisations, brand owners.  They undertake to communicate and further the understanding and appropriate use of bioplastics.
Demand from consumers for home compostable packaging
Consumers have been asking for sustainable packaging solutions, as they are witnessing the devastating effects on our environment from plastics and fossil fuel-based packaging. This demand for innovative new packaging technologies to reduce waste, landfill and carbon is felt throughout the supply chain.
The NSW EPA report in 2016 found that around 75% of plastic waste comes from supermarkets. Couple this with limited industrial composting facilities across Australia and our home compostable packaging is a real solution to landfill.
For more information on our home compostable packaging for your products, please contact us or call us on +61 2 8882 9612.